30 Jul 2021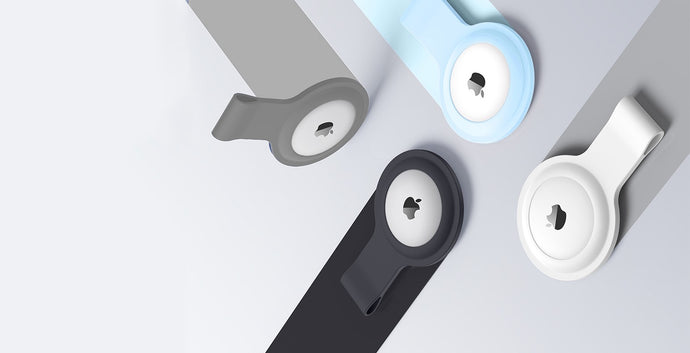 When I was 18, I had a job as a waitress and before leaving to work one day, I couldn't find my keys anywhere. Like, anywhere… I turned my bedroom upside down looking for them. '15 minutes late for work' turned into '1 hour late' which quickly turned into '2 hours late'... I got myself into a right state, panicking about my job security and that I'd never be able to leave my house again as it locked from the inside. 
After emptying every drawer and cupboard onto my bedroom floor, I sunk into bed feeling hopeless, and then feeling uncomfortable… I felt a sharp pain in my bum, and when I stood up, I picked up the pillow I'd sat on only to find my keys had fallen inside of the pillowcase…
I WAS LIVID but also relieved. It's strange to think that if the AirTag had come out 7 years ago, maybe I wouldn't have lost that waitressing job!
So What Is The AirTag?
The AirTag is a neat little device that you can attach to your belongings to avoid losing them. 
How does the AirTag work?
The AirTag works with the Find My app. Attach the AirTag to your keys, throw it in your handbag or backpack, basically attach it to anything that you don't want to lose. When you forget your backpack on a train, you can simply open the Find My app and watch as your backpack and AirTag travel further and further away, while simultaneously frantically ordering an Uber to chase that train. 
What if I Can't See the AirTag?
Apple has added a small speaker to the AirTag so that you can make it play a sound when you can't see it. Woohoo! No more turning your bedroom upside down to find your keys, you can just open the Find My app, or say 'Hey Siri, find my keys' and then listen out for the AirTag that's hiding in your pillowcase!
How Do I Find My AirTag?
If you're using an iPhone 11 or newer, your iPhone will be able to lead you to your AirTag with Precision Finding, showing you the distance to your AirTag and the direction you need to head in to find it. 
How Do I Set Up My AirTag?
Typical of the Apple user experience, the AirTag can be installed with one tap. Simply pair your AirTag to your device, give it a name like 'keys' or 'backpack' and you're good to go! 
Cool Features of the AirTag
The AirTag battery life is designed to last over one year on a standard battery that is easily replaceable, with your device letting you know when the battery needs changing. 
Forgetful AND got butterfingers? No worries! If you drop your AirTag in a puddle, it should be fine as it's water-resistant. 
You can personalise your AirTag free of charge when you buy it direct from Apple. Personalise it with your initials, an emoji, or both!
How To Attach The AirTag To Your Belongings 
The AirTag is pretty nifty as it is if you're planning on just throwing it in your purse or backpack, but if you're wanting to secure it to your belongings, it makes sense to grab a carrier for the AirTag that attaches to your belongings using a keychain. 
QDOS have just launched their solution: The PocketTag. 
The PocketTag is a flexible, solid silicone case that keeps your AirTag safe and secure when you're on the move. The convenient stainless-steel clip is strong and robust, allowing you to easily attach the AirTag to your most used belongings. Clip to house keys, car keys, bags, even pets! Really anything that you don't want to lose. With a lightweight design, the PocketTag is practical and durable, making the AirTag that bit more usable. Don't lose your things AND your AirTag. Secure your PocketTag to your things and track 'em down!
You can take a look at our PocketTag in more detail here. And as a little treat from us, be sure to use discount code TAGYOUREIT for 20% off your PocketTag!