16 Jan 2018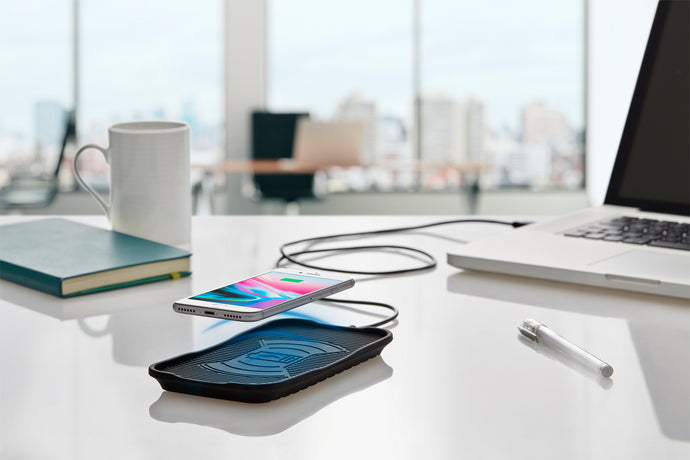 Apple rolled out their highly anticipated new iOS 11.2 software update last month, breaking their usual release schedule trend in the process. If you have bought yourself an iPhone 8, 8 Plus or X, then you'll be glad to know that devices now support Fast Charge. But what does that mean? It means that your iPhone 8, 8 Plus and X will now Fast Charge with a 7.5W Qi-based wireless charging solution instead of just 5W -  on paper, a 50% increase.

If you are in a hurry to charge your phone, we suggest the wired charging option.  The popular and recommended solution seems to be Apple's 29W USB-C wall charger (supplied with your Apple MacBook) with Apple's USB-C to lightning cable, which gives your iPhone X 49% charge after 30 minutes, and 78% charge after 60 minutes.  With a cable, you are also still free to move the phone wherever your cable allows it.

Thinking about convenient wired solutions, most of the time, we still need to carry around more than one cable… Perhaps you have an Apple iPhone X for personal use, and a Samsung S8 for work, as well as that Sat Nav at home that takes the micro-USB connector. Consumers still need to carry around more than one cable – how frustrating! Luckily, the QDOS PowerSteel 3-in-1 cable features a USB-C, Micro-USB and Lightning connector, allowing you to charge most of the major smartphones with one simple cable. 
Aside from charging speed, Convenience and compatibility do seem to be the other deciding factors for consumers to decide how to charge their device. Generally speaking, wireless charging is slower than wired charging…. But wireless charging does offer a convenience that is a novelty for those with the latest Apple handsets – simply place your phone down. That's it. No need to find the cable, plug it in, find the connector end and plug in. If you're wirelessly charging throughout the day at your desk, or even wirelessly charging overnight, the slower speed may not be a deal breaker. As all major phone brands are Qi compatible and all major chargers use Qi, then you are able to charge the Apple iPhone X, Google Pixel 2 and Samsung Galaxy Note 8 with the same wireless charger. The update simply allows the iPhone X to finally charge as fast or in some cases even faster than its competitors. Great job Apple!
If you're looking for a Wireless Charger for every location then look no further. Here at QDOS we've developed a 3 coil 10W Wireless Charger which supports Fast Charge for all Qi enabled devices. Find out more about the Wireless Charger here.