12 Feb 2020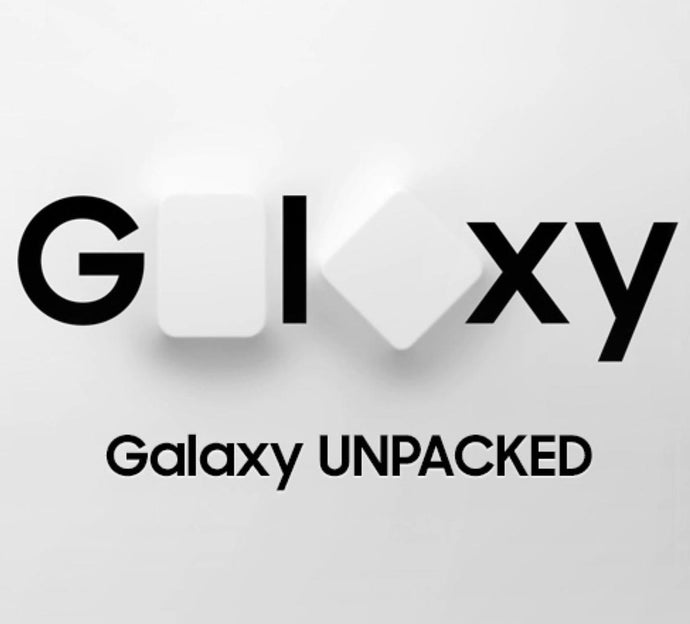 Yesterday afternoon (11/02/2020), Samsung launched 'the next 10 years of innovation' at the Galaxy Unpacked Event, to showcase their best and brightest products to kick off the decade. In total, 5 new pieces of hardware were unveiled, including a new foldable device, 3 new flagship 'S' devices and their next generation of wireless earphones. As usual, the event was filled with stunning visuals and a seamless presentation, with the odd awkward moment from the presenters, but that tends to happen when you get pesky humans involved….luckily Samsung are making plenty of headway in AI functionality, so will we might not even have to deal with people much longer.
QDOS were lucky to have someone on the ground at the unpacked event, so we will be updating the article as our correspondents report back with more information.
Galaxy Z Flip
Much like last year's event, the foldable device was the first to be showcased. After a long and fairly unjustified nod to the Galaxy Fold (a device we thought Samsung might rather forget than remember), Samsung were eager to shout about the new Z Flip.
Bizarrely it was described as 'true innovation' and 'nothing you've ever seen before'. Clearly they were banking on nobody seeing the release of the near identical Motorola Razor just weeks ago.
Jokes aside, the Z Flip is a step up for foldable devices. As specialists in tempered glass, we can certainly understand that developing a fully-functioning, foldable piece of glass is no easy task. Especially one that can fold over 200,000 times. If we put that into context, I am an avid mobile user, and unlock my device 40-50 times a day. Even if I were to double that, I would still unlock my phone less than 40,000 times a year, so if Samsung's claim is true, the Z Flip's fold will certainly last the lifetime of the device.
The 'freestop hinge' is also an exciting prospect, allowing the device to stay in a partially folded position (e.g. 90degrees) as long as you need it to. This makes perfect sense for taking pictures and videos without a tripod, or video chat, or even watching something on the screen hands free.
It was slightly awkward when it took a few attempts to open the camera app to take a selfie, which would question the touch sensitivity but I'm sure it was more an issue with nerves than the actual device.
The Z Flip comes in at $1380, which is more expensive than the Razr, and doesn't come with 5G, which is certainly very odd given that a huge segment of the event was dedicated to how 5G will shape and assist in all Samsung's activities in the years to come. Is this device just another attempt at a foldable then without any real faith in the product?
Personally, I don't think they do, otherwise it would be 5G ready. It's also not the most fantastic looking device to grace the market. It actually looks extremely familiar to me. Does anyone remember the GameBoy Advance SP?
Release date: February 14th
Thom Browne?
I'm sure this segment appealed to the fashion forward members of the audience, but as someone who watched the event solely for the tech, this went straight over my head…
Galaxy S20, S20+ and S20 Ultra
At this point we think Samsung must be leaking their own product names because we've known these for a while. It doesn't however make the devices any less impressive. From the get go, the new cameras were the main focus point across these devices, along with improved AI functionality and of course 5G.
All three devices have the option to shoot 8K video, which is fantastic for mobile devices. The only issue we can see with this, is that there aren't many places to view 8K videos yet as 4K televisions have only recently been adopted.
The S20 Ultra is a cut above the rest in terms of camera quality. The 100x zoom feature and 108MP camera, compared to the 'Space Zoom' and 64MP camera of the other two devices means that it's not only just a great camera for a smartphone, it's a great camera by camera standards, as demonstrated by various content creators throughout the event.
5G across all three devices massively helps with online gaming and video streaming, increasing the refresh rate and reducing lag, so you encounter a much smoother experience, all with 20% less power usage (supposedly).
'Simple. Stunning. Seamless' was the catch line to describe the new line-up. One detail we found particularly interesting however was that not much detail went into the rest of the functionality of the devices, screen sizes etc. Not much was there to convince us to purchase these devices over the previous S10 range aside from a better camera and of course 5G. The reduction in price of the former devices certainly will increase their popularity, as 5G isn't readily available in most territories just yet, so is it worth paying the extra price for cameras and a speed/battery boost? And oh yes, it is quite a price jump. The S20 starts at $999, whilst the S20+ is at $1199 and the Ultra coming in at $1399. These prices make the Z Flip look like a bit of a bargain really.
Release date: March 13th
Galaxy Buds+
Probably the most exciting product in this line-up, all because of the price. Imagine state-of-the-art dual speaker, triple mic buds with increased base and treble optimisation; 11 hours of battery life with a further 11 with the charging case, all for $149. Given that the original AirPods (released in 2016) still retail at $159, what you get for the price is an absolute steal.
With these set to launch later this week on February 14th, we believe these will absolutely fly off the shelves.