10 Feb 2020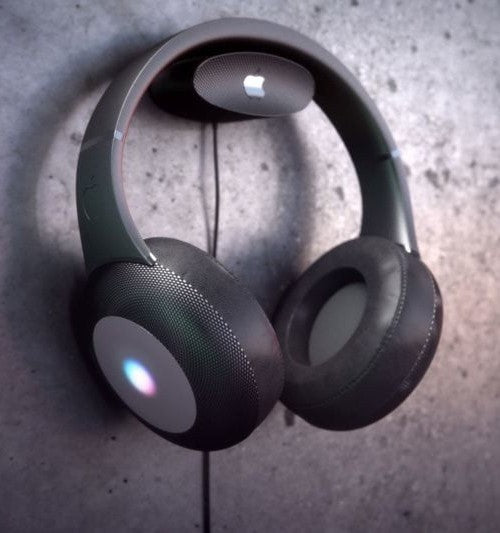 You may remember the term 'StudioPods' or heard whispers of 'Apple over ear headphones' from way back when in 2018 when this rumour first surfaced. We know what you're thinking, a rumour this old is surely exactly that, a rumour. Well, after Apple have been applying for more headphone related patents, we reckon we'll be introduced officially to these Apple over ear headphones pretty soon!
Apple StudioPods Release date
The StudioPods were first rumoured back in 2018, when Apple analyst Ming-Chi Kuo issued a research note stating that Apple will have its own brand of high-end over-ear headphones with an all-new design. 
This was a long time ago, and it would be reasonable to brush this off as just another Apple rumour, however, it would appear that Apple came across some development issues that caused them to push back the release date of their new Apple over ear headphones. It's now looking like we could see the so-called Apple StudioPods officially announced in Spring this year!
Product name
We like 'StudioPods', but calling the Apple over ear headphones 'StudioPods' is simply a placeholder until we find out the real name. The community made up 'StudioPods' to refer to this product when discussing rumours, and to be fair, it's a very possible name for these Apple headphones… 
While we aren't certain Apple will call their over ear headphones 'StudioPods', it does follow their current naming convention. The 'Air' aspect of the AirPods refers to the wireless feature, so maybe with wireless headphones, we'll see 'Air' reappear in the name. However, we believe it's more likely that the Apple over ear headphones will have 'Pod' or 'Pods' in the name, as 'Pod' is used in many of the Apple music products, such as iPod, AirPods, HomePod, and EarPods.
Design
The current designs that we've seen seem to come from the patent that Apple applied for back in 2018. Apple wanted to patent their new noise and wind cancellation technology. 
Patents are a great indication of products that Apple possibly have in the works, however, they don't confirm anything. We've seen Apple previously apply for patents to indicate a certain direction the company is headed in, just to confuse the marketplace. 
This being said, we can still look at patents Apple has applied for to get an idea as to what they might be working on. In January of 2019, Apple got a patent simply named 'Headphones', in which the patent describes 'a pair of headphones including an adjustable headphone band'. 
The same patent also includes mentions of the noise and wind cancellation technology. It states: 
'In some embodiments, headphones can also include a noise cancellation feature. The noise cancellation feature can be substantially improved if a listener's ears are completely covered by the ear cups.'
Another exciting patent published in January of 2020 talks about a feature where the listener can control playback on the headphones without the use of buttons, but rather with gestures. 
Again, these patents don't confirm anything… but they are a good indicator that these Apple over ear headphones aren't just a rumour (we hope)!


Price
It's safe to assume that the Apple over ear headphones will cost more than the Apple AirPods. We estimate the StudioPods to cost around £299/£349, however this is just us speculating. It will be interesting to see how Apple prices their own-brand headphones considering they still own and sell Beats by Dr Dre headphones, with the newest version of these noise cancellation headphones costing £269.95 on the official Apple website. 

Check back for more updates on the Apple over ear headphones soon! As Spring gets closer, we're sure there'll be more clarification on what's to come from these snazzy Apple headphones.
We're pretty excited to be brainstorming product ideas for the StudioPods! Maybe we will release a new version of our PocketPods for AirPods and AirPod Pros.
A blog by Gabrielle Lazareff
References:
https://www.macworld.co.uk/news/apple/studiopods-headphones-3672650/#patent