29 Mar 2017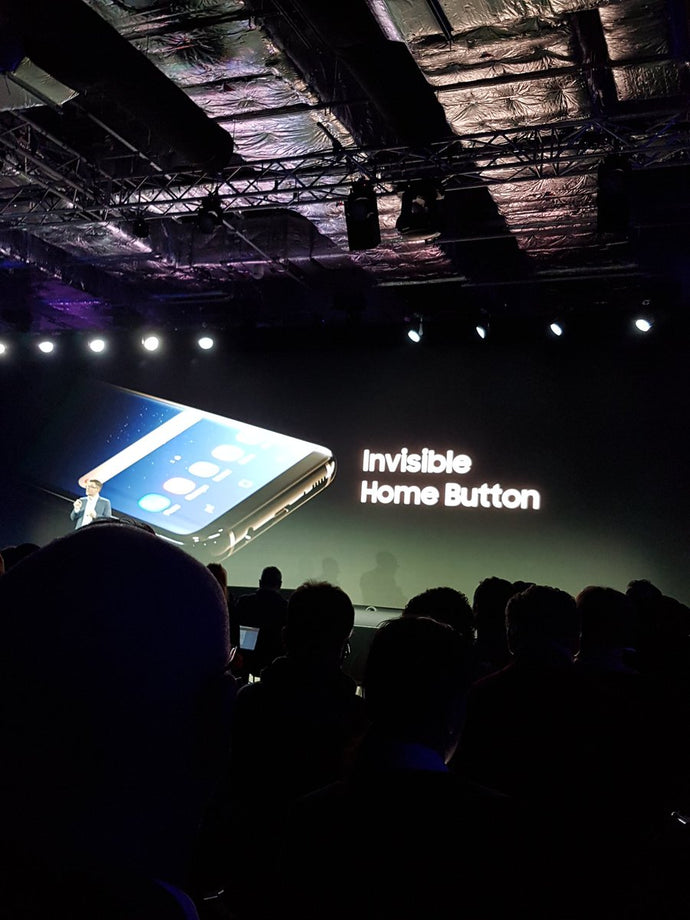 Many of those who have gotten their hands on the Galaxy S8 & Samsung Galaxy S8+ have remarked that it is the nicest, yes the nicest phone they have ever held. We haven't gotten our new S8 yet, but needless to say we're excited. It looks like Samsung S8 protective screens and cases are going to be a pleasure to continue creating and several of our own staff members are looking to upgrade their phones sooner rather than later.
Samsung has delayed launching its S8 following the Samsung Note 7 debacle. Given what we're seeing and hearing, it appears like delaying was the right choice. The quality, craftsmanship, and features of this phone simply look astounding.
Samsung S8 Infinity Display Screen
The Samsung S8 features a gorgeous 4K resolution "Infinity Display" that comes in two sizes, 5.8 and 6.2 inches. As expected, the screen takes up nearly the whole front of the phone, so even with the large screen sizes, the Samsung S8 should be comfortable to hold in hand.
The Samsung S8 Infinity Display wraps around both sides of the phone, essentially creating a double "edged" phone. Creating an easy to apply Samsung S8 screen protector has proven to be a bit trickier on our end, but we're thrilled to say we've achieved what we view with our high standards as perfection! These will be available to pre-order by the end of this week (31st of March). This also means that Samsung 'edge's' are now a thing of the past. Every S8 will now be an "edge" phone, hence the name change for the larger device being Galaxy S8 +. The screen will also be a bit longer with an 18.5:9 aspect ratio.
Although you can't see it, there actually is a home button! It's a hidden, pressure sensitive button that has been built right into the screen! This allows Samsung to save space while also providing physical control.
Hardware and Construction
The phone is a mix of glass and metal, and many reviewers have noted that it is very comfortable to hold and very well-constructed. We expect this of all Samsung phones, and have delivered it in our own Galaxy S8 360° full coverage case Fusion S, as seen below.
The S8 will feature a USB-C connector. It's possible that USB-C will become the industry standard in the near future, even Apple is rumored to be considering a USB-C connector for future generations of iPhones (although as you can read in our 'Could Apple really be dropping the lightning port?' blog, we're not so sure about that rumour!) Accessing your USB-C port while wearing a case won't be a problem with our Fusion S, as easy access to all ports and buttons has always been a top priority in QDOS case design.
The S8 will also feature a 3.5mm headphone jack! Hurray! There's also the conventional design of the power button being located on one side, while the volume button is located on the other. What's not so conventional, but very welcome is the dedicated button for Bixby, but more on that feature later! Here's a little sneak peak of the Bixby logo.
The S8 will also feature a fingerprint reader on the back, a feature we've found to be very useful on the Google phones and other smartphones. There will also be a brand new, automatic facial recognition software. Thank-you Samsung!
Meanwhile, a multi-frame processor will ensure that the 12 mega "dual pixel" sensor takes focused, professional quality photos. This camera has already been in use by Samsung and represents one of the best smartphone cameras currently on the market.
Bixby and Other Advanced Features
By the sounds of it, Bixby is the next evolution in the AI assistant race. Siri is well… okay. Must give it props for being one of the first AI assistant's to be created, but Bixby definitely looks like it will deliver a much better user experience. Why? For one, Bixby will have a "context" awareness feature, allowing the AI software to better understand what's going on. One of the biggest complaints about Siri is that the phone is often out of context.
The Samsung S8 will also feature an advanced motion sensor, allowing you to interact with VR environments. The S8 will also be compatible with Samsung's current, and upcoming virtual reality gear.
When Will the S8 Be Available and How Much Will It Cost?
To our surprise, you can actually buy your new device right now in the UK! Both Samsung Galaxy S8 models are available for pre-order on the Samsung website. The phones will be available for purchase and will be delivered on April 28th. The 5.8 inch S8 model will retail for £689. The 6.2 inch model will retail for £779. Each phone will ship with AKG earbuds. Obviously, this is a premium price, but if you didn't guess already, it definitely stands out as a premium, incredibly smart-phone!
If you happen to be in the United States, you'll be able to pick up your S8 even sooner (jealous!) The phone will be available starting on the 21st. The full retail price for the smaller S8 model starts at $720. The S8 Plus will start at $840. Available in 5 stunning colours, we're fine with waiting the extra week for ours. Gives us time to figure out which colour we want! That Orchard Gray is definitely standing out to us!
Many thanks to Purav @PDTechHD for letting us use his photos from the live event! For quality tech content, be sure to give him a follow on twitter, and subscribe to his YouTube channel! Cheers!
If you instead opt for the Samsung Galaxy S7, we have a range of products to suit you here.