15 Sep 2017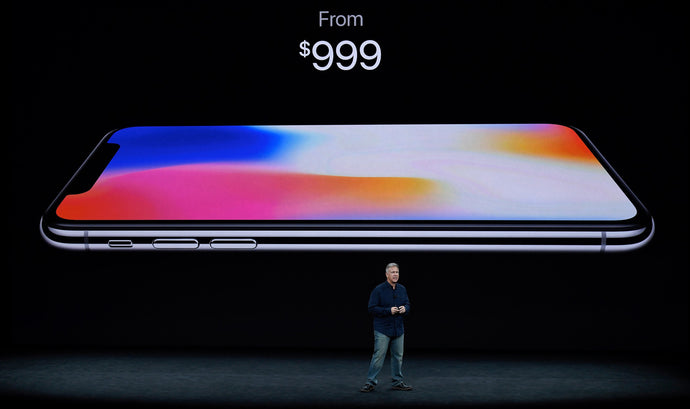 Source: Business Insider. Original source link: http://www.businessinsider.com/apple-iphone-8-x-event-live-blog-announce...
Wherever you were on Tuesday, September 12, 2017, if you're a follower of mobile technology, it will forever be remembered for one thing. And that is the announcement by Apple of its latest line of smartphones, the iPhone X, 8, and 8 Plus. Why?
Because this year's Keynote carried with it extra meaning, it wasn't just the 10th anniversary of Steve Jobs unveiling of the first iPhone, but, also the first event to be held in the Apple founder's name sake Theatre. As such both emotions and expectations were extremely high for the event, and Tim Cook, Apple's CEO did not disappoint!
iPhone X, iPhone 8 and iPhone 8 Plus
As is usual for a Keynote address, there were some opening words, to remind people of exactly what Apple's vision is. However, this time the focus was on the company's journey since the first iPhone was announced. Tim Cook took to the stage and immediately paid homage to his late friend and boss Steve Jobs. Giving his ideas, imagination, and sheer tenacity the kind words they deserved. But, as Cook and Apple are a forever forward thinking company, it rarely rests on its laurels.
So, after the introduction of a few other products, such as a cell enabled Apple Watch series 3, and a 4K enabled Apple TV, it was time for the iPhone; exactly, what the entire crowd and those watching via live stream across the world had been waiting for.
Here's a brief breakdown of each device, including everything we know about them, plus the price, pre-order and release dates.

Filename: Apple-iPhone-x.jpg / Source: YouTube.com
iPhone X
According to Cook, the iPhone X will place Apple at the pinnacle of smartphone technology. He believes that this new device will set the path of the industry for the next decade. So, what does it offer?
Display
It turns out the leaks that we have seen in the last few months were correct. Apple has delivered a handset with an edge-to-edge display which is 5.8-inches in length across the diagonal. As for resolution, it offers 2436 x 1125, that's more than 2.7-million pixels amounting to 458 ppi, the highest ever on an iPhone!
Manufactured using OLED technology, it's the first time Apple has not used IPS LCD tech, which is something that Apple fans have been calling for years. Now, the iPhone will feature a display that will rival the likes of Samsung's S-Line devices, preventing more defections to Android.
Of course, this means, the Home Button is gone, as is Touch ID for the X; however, the company has worked tirelessly to make this work. As such, accessing the Home Screen is now done via a swipe, and unlocking is completed using Face ID.

Source: The Daily Beast. Original source link: http://www.thedailybeast.com/cops-are-likely-to-be-able-to-force-open-yo...
What is Face ID?
As touched upon above, the iPhone X has no Home Button, nor does it have Touch ID! So, Apple has come up with a new ingenious way to unlock your phone called Face ID.
Apple is calling this new piece of hardware/software the future of smartphone unlocking, and it works by looking at the handset; thanks to what is called a 'True Depth' camera system, which is located at the top of the display. Now, this is no ordinary camera, in fact, it's a state of the art piece of technology with multiple components. These consist of an ambient light detector, Infra-red camera, Flood illuminator, proximity sensor, Dot projector, speaker, microphone, and a front camera.
How do they combine to create Face ID? To start with, when you look at the iPhone X, the flood illuminator detects your face. It doesn't matter if it's day or night, light or dark, as the IR camera then takes an IR image, 30.000 IR dots being projected onto your face via the Dot projector. This creates a model of your face, and teaches the iPhone X to recognise you and unlock the iPhone! Apple worked with over 1-billion images to create Face ID, in doing, so it created a neural engine, which helps to create face Recognition.

Source: The Verge. Original source link: https://www.theverge.com/2017/9/12/16298192/apple-iphone-face-id-legal-s...
Could this be the most secure way to lock/unlock a phone ever? It's certainly possible, as Neural engine adapts to the changes to your face, beard, short or long hair, tired, excited whatever. Almost nothing can beat Face ID, including masks and images.
Apple is calling this Face Data and has worked tirelessly to protect it using software called Secure Enclave. All of which is possible thanks to the A11 Bionic chip. To make it even more secure, processing of Face Data, takes places on iPhone X, meaning that if you don't look directly at the handset, it won't unlock. Meaning, you need to be eyes open and looking straight at the phone.
How secure is it? With Touch ID the chance that a random person could unlock your phone was 1 in 50.000, with iPhone X and Face ID that chance reduces significantly to 1-in a million!! Of course, if you have a twin, or someone looks slightly like you, the chance increases.
Face ID also works with Apple Pay, and Third-party apps, like Edtrade, it protects your personal data and learns your face, it's incredibly adaptable.

Source: The Verge. Original source link: https://www.theverge.com/2017/9/12/16290210/new-iphone-emoji-animated-an...
Animated emoji or Animoji
A fun new inclusion with the iPhone X is Animoji, an animated version of the increasingly popular but still emoji. You control them with your face, to give incredible expressiveness to a character of your choice. During the Keynote, this new software was shown working within Apple messages. Furthermore, Cooks voice could be clearly heard added to an alien Animoji; he said: "Take me to your leader…"
This means Apple has created a new and fun way to share and express your feelings with friends and family. Will this be a hit, we think so. Indeed, we believe Android may soon have something similar!
Design
With the iPhone X, there's no denying that Apple looks to of surpassed the likes of Samsung with its Note 8, and Galaxy S8's. Whereas the South Korean firm could not overcome technical difficulties to remove the fingerprint sensor, Apple has dropped it altogether.
And that means this iPhone X has a completely different look even when compared to the iPhone 8, and 8 Plus. Made from super-strong glass on the front-and-back it features a surgical steel band which wraps around where they meet. This glass is the strongest most durable Apple has ever used on an iPhone. Meaning that should you drop your X, it won't shatter as easy, as previous models did. However, if you're still concerned about your screen's safety, then you could always explore the range of QDOS iPhone screen protectors to see which one is best for you and put your mind at ease knowing your expensive screen is protected.
As for colours, it will be available in Space Grey, and Silver, no Matte Black or Jet Black this time.

Source: 9TO5Mac. Original source link: https://9to5mac.com/2017/09/12/iphone-x-space-gray-silver-no-gold/
According to Cook, these colours have a pearl essence effect, which makes the iPhone X look beautiful in hand. However, protection from the elements is as equally important as looks, so there is added protection. Meaning, this handset is water and dust resistant to the highest standards, presumably at a rating of IP67.
Power
If you thought Apple could not exceed last year's phenomenally performing A10 chipset, think again. All three devices, 8, 8 Plus, and iPhone X sport a shiny new A11 Bionic chip and it's fast, very fast!
Whereas, last year's chip was a Quad-core chipset, the Bionic benefits from Six-cores, and it has the first ever Apple designed GPU. So, what does that mean for performance? Like the A10, the A11, has two high powered cores, compared to their predecessors they are 25% faster. According to Apple the remaining four, are a staggering 70% more power efficient than the two counterparts in the A10.
As for the apparent GPU upgrade, there are now three cores, all of which offer an improvement of 30% compared to that in the A10.

Filename: Apple-iPhone-x-camera.jpg / Source: YouTube.com
Cameras
The rear Camera of iPhone X is a dual 12mp setup like that on the iPhone 7 Plus. Although it offers faster photography and wider angle lenses, additionally there's a colour filter, and f1.8 and 2.4 apertures. The big news is there is dual optical image stabilisation, that means better low light zoom and correction for shaking hands.
Furthermore, there is improved two tone flash, and HDR (high dynamic range), to create beautiful 4K images. Plus, there's zero shutter lag and improved performance in low light. In fact, the use of portrait mode is great and uses Portrait lighting which is found on the iPhone 8 Plus. Last but not least, there's the ability to shoot snap 4K video, using this to run amazing AR games.
An Apple designed video encoder makes the video quality the best you've ever seen on a handset, 4K, 60fps. It can optimise up 2 million pixels per second, and now a 1080p video can be shot at 240fps.
As for the front selfie camera, it too uses portrait mode, and Portrait Lighting to create the best looking Selfies you've ever seen.
Price and Availability
The iPhone X will be available to pre-order on October 27 and then go on sale on November 3. Starting at $999 for the 64GB version and rising to $1,149 for the 256GB version.
iPhone 8 and 8 Plus
What's immediately clear about these two iPhone 8's is that neither has the edge-to-edge display, of the iPhone X! Will that be a sore point for those who cannot push to the X's $999 opening price? We will have to wait and see.

Filename: Apple-iPhone-8-and-8-Plus.jpg / Source: YouTube.com
Displays
As for what we can tell you about the 8's, they are the direct replacements for the 7 and 7 Plus. Meaning, that the smaller has a 4.5-inch display and the larger, a 5.5-inch display. However, the difference from their predecessors; these screens are both retina HD.
Additionally, both offer wider colour gamut's, with true tone, and it adapts to ambient lights, meaning, they are better in both day light and the dark, providing richer colours, and darker blacks.
Design
Although they look similar in design to the 7's, there are differences, such as glass on the front and back, a concept not seen in Apple since the iPhone 4 models. Plus, there's a steel and copper structure which helps to make them the most durable handsets, bar the iPhone X.
Colours that will be available at launch include Silver, Space Grey, and a new Gold finish, all of which will help the 8's stand out amongst the plethora of devices on the market.
Source: Quartz. Original source link: https://www.google.co.uk/url?sa=i&rct=j&q=&esrc=s&source=images&cd=&ved=...
Power
Just like the more expensive X, these two devices get the A11 Bionic chip with its 70% improved efficiency. Plus 25% increase in operating speed when compared to the A10. Additionally, there are gains of up to 30% via GPU performance, which makes AR gaming possible.
Camera
While the standard iPhone 8, has a single rear 12MP, f/1.8 sensor, the Plus, is a dual setup with f/1.8 and f/2.8 apertures. Similarities include optical image stabilisation, 5x digital zoom, wide colour capture for live photos, and true-tone flash.
Additionally, both devices feature a front-facing 7MP sensor that comes with video recording at 1080p@30fps, 720p@240fps, face detection, and HDR.
Price and Availability
iPhone 8 starts at 64GB and 256GB $699, 8 Plus starts at 64GB and 256GB $799, they will be available for pre order on the 15th and go on sale on the 22nd.
Now, if you've already decided that one of the three smartphones is for you, why not look to protect what will be an expensive purchase. You can do that with the following products:

HYBRID
This strong protective case is clear so you can show off your iPhone X with peace of mind. With flexible sides and a strong, rigid rear, it offers the X a secure fit without affecting its gorgeous looks.
At £14.99, the HYBRID is also available to buy for the iPhone 8, and compatible with the iPhone 7, and earlier models. Click the link for more details.
iPhone Celebration Cases
To mark the iPhones 10th anniversary, QDOS has launched a new range of celebratory cases that will protect your iPhone X, iPhone 8, and 8 Plus from the elements and accidental damage. All at £14.99 there are 6 unique designs to choose from across 12 different devices!
You can find out more here.