05 Jul 2018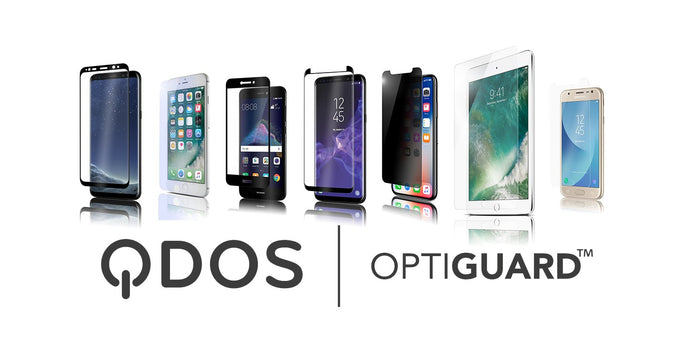 The latest flagship installments are more impressive and more expensive than ever. A brand new Galaxy S9 will set you back £739, whilst a new iPhone X will cost you £999. Spending the best part of a grand on a phone might make you a little paranoid to use it normally without fear, and with the high price of screen replacements, it should. According to Mintel research, 24% of UK Smartphone owners have experienced a broken screen. You can find Mintel's full research into the UK smartphone habits here. But there are ways to use your device every day without fears, with the knowledge your smartphone is protected.
Above is a table of exactly how much it will cost you to replace the screen of many devices from the manufacturer (Apple, Samsung). Because a lot of new devices have 'infinity displays' and therefore curved screens, which drives up the price of the screen replacements.
The much smaller figure on the right is the price of a QDOS glass screen protector with Lifetime Warranty. What does this mean?
Let's take a look at the iPhone 8. Hypothetically you might purchase a brand new one, which will set you back £699. Not long after purchase, you might accidentally drop the phone, it hits the corner of a table and you're looking at £156.44 to replace the screen so your iPhone returns to its former glory. This was an avoidable expense.
If you were to go and purchase a new £699 iPhone 8 and then purchase a QDOS OptiGuard Glass Protect for £19.99, you can rest easy in the knowledge your screen is protected. If you drop your phone and it hits that corner of the table, it's likely the OptiGuard might break; it's designed to so your screen doesn't. What next, another £19.99 for a new screen protector? No.
With OptiGuard, if you accidentally break your screen protector, you can simply make a claim to receive a new one, absolutely free (as of 16th July, postage and handling charges will apply). This isn't a one-time offer either, you can continue to make claims if your OptiGuard is accidentally damaged for the entire lifetime of the device (usually 2 years) so your phone's screen can stay protected until you trade-up to the latest brand installment, which apparently around two thirds of smartphone users do every 2 years.
Which devices can you get an OptiGuard with Lifetime Warranty for?
Is your device not listed above? We might still have your device, explore the full range of QDOS OptiGuards here.