04 Apr 2018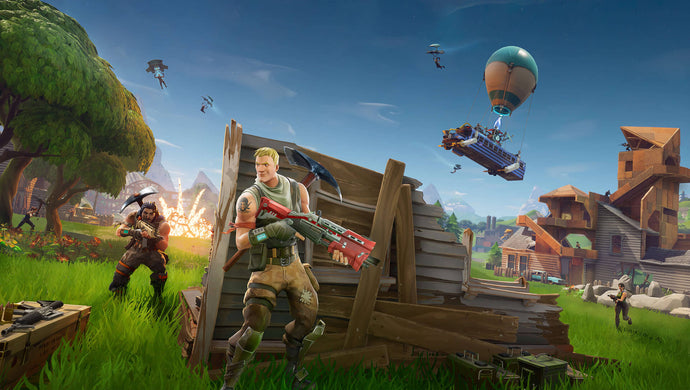 Every year we welcome new games into our lives, whether they be the latest niche version of Monopoly, or Cards Against Humanity, that made its way into everyone's Christmas stockings a couple of years ago. However, the age of online gaming has brought vast new opportunities for people to connect and play competitively with people all over the world, wherever you are; especially when it comes to mobile.
2018 is looking like the year of the Battle Royale genre. In fact, they're taking over. Two titles in particular, Fortnite: Battle Royale and Player Unknowns Battlegrounds are two of the most popular games around. Not only are they top of the most downloaded on Playstation, PC and XBOX (PUBG not yet available for Playstation), but they are the most uploaded gameplay to YouTube and most streamed gameplays on all top streaming sites (Twitch, YouTube etc). A gaming live-streaming record was recently broken when music artist Drake logged on to play one of these games with the help of a professional player/streamer.
Following their success on console/PC devices, the titles have recently launched as apps on mobile. The question is, will they soon be taking over the mobile games market? We have put together a list of our favourite games currently available on iOS and take a look at where the biggest Battle Royale games place in comparison.

Fortnite: Battle Royale – FREE

Despite its recent release, Fortnite is already the number 1 game on iOS with millions already playing the mobile version. The aim of the game is simple. As with most Battle Royale genre games, your virtual character is dropped/spawned in with 99 other players and you have to fight it out to be the last one remaining.


What has made Fortnite so popular is that it appeals to so many different types of players. Whilst it is one of the most visually attractive games around, it runs almost perfectly, without hesitation or glitches and the developers are always coming up with new ways to keep the game fresh, e.g. new weapons, game modes and more. If you have a few friends that you don't see in person as much as you'd like, this is definitely our choice to stay social and have fun.

Player Unknowns Battlegrounds (PUBG) – FREE

The main rival to Fortnite, and the major breakthrough title in the Battle-Royale genre, PUBG is very much the nitty-gritty style Battle-Royale game. As opposed to bright colours and flashy weapons, PUBG goes for a much more realistic look and feel. Each game starts with the player being dropped onto a desolate, soviet-style island with 99 other players with the sole purpose of being the last one(s) alive.This is certainly not a game suitable for children. However, PUBG also promotes the social side of your game, allowing you to play in 'squads' to maximise your chance of survival. 


Currently holding the number 5 spot on the iOS store, despite being released earlier, PUBG has fallen behind its younger competitor for a few simple reasons. Fortnite runs more smoothly, they are constantly updating the game and it is aimed at a larger audience. This being said, PUBG is rapidly improving in terms of gameplay, which is good because it's one of our favourite games.

Not a hardcore gamer? No problem, the rest of our list is compiled of stress-free, light-hearted games.

Heads Up - £0.99


Do you remember playing articulate? The game where you have to describe a word/person/thing without saying what it actually is… Well this is almost the mobile version of that, except the person holding the phone has to guess what's on the screen. It works because the person with the phone holds the device up to their head, screen facing the other players who have to describe or act out the words displayed. A fun edition is the phone records your friends struggling to describe/act out the words for 60 seconds so you can watch back the chaos and disaster once it's all settled down. The small price hasn't put off too many people as it's currently at number 2 on the iOS paid games chart.


HQ – Live Trivia Game Show – FREE




The greatest challenges grant the greatest rewards…quite literally in this case. Twice a day, HQ run a live trivia quiz with the chance to compete for a cash prize pot. However, get an answer wrong, and you're OUT. From easy to darn right impossible, you answer 13 multiple choice questions for your chance to win. Watch as 50,000 contestants get whittled down to a handful. What happens if you get all the questions correct? You win money! If you're the last one left, you take it all! If you're one of a few remaining after all the questions, you split the cash pot with the rest of the players.


The Chase: Ultimate Edition - £1.99




Another one for the family, currently standing at number 8 in the iOS charts, the Chase comes straight from the dinnertime TV gameshow, allowing users to pit themselves against all 5 chasers from the show. Including a running commentary from Bradley Walsh himself, up to 4 players can put themselves forward to beat the 'Beast'. In a cool little twist, if you have the game on multiple devices, one player can choose to be the chaser and take on the rest of the players. It really is like bringing the gameshow to your living room.