17 Aug 2018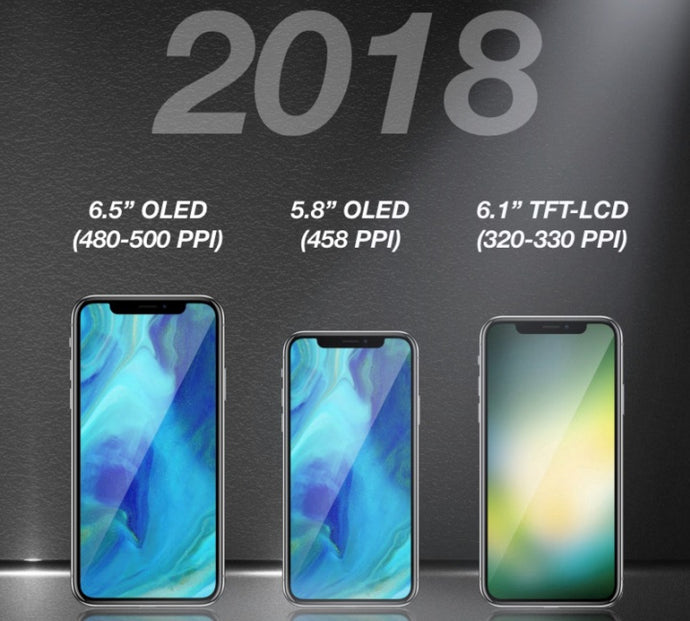 After being accused of becoming predictable in 2016 with the launch of the iPhone 7 and 7 Plus, the trillion dollar company shook things up by introducing us to the revolutionary iPhone X. This year, we are fully expecting Apple to build on the success of the X with a range of brand new mobile device launches.
 
What new iPhones are coming?

We can be fairly certain that Apple will be launching a total of 3 new iPhones in 2018. You may have already seen 'leaked' pictures and videos of these, however, it can be difficult to tell truth from lie with these and we have seen some terrible editing mistakes from "reputable" sources.

Production teams in China suggest many of the leaks are correct, with Apple set to launch an upgraded spec 5.8" iPhone X, a 6.5" plus size iPhone X and a more budget-friendly 6.1" iPhone X. The 5.8" and 6.5" are going to have OLED screens pretty much the same as the previous model, whilst the 6.1" version will have an LCD screen to allow it to be less expensive. The cheaper device will also have a single-lens camera similar to the iPhone 8, whilst the more expensive counterparts will both feature dual-lens, making for more impressive images and videos.
What will they be called?
This is really anyone's guess and currently the biggest cause for speculation. The 6.1" device is hotly tipped to be called the iPhone 9, although many suggest it could be the iPhone (2018). If it is the iPhone 9, then it wouldn't make sense to launch an iPhone XI (11) alongside it, so we think they would go with the iPhone XS (10s) and an iPhone XS Plus (10 Plus). Although XS does make it sound like an extra-small device, so Apple really do have a job on their hands.
 
What upgrades can we expect to see?

Don't get too excited about any revolutionary new features or changes to the 5.8" iPhone. It is very unlikely that there will be any drastic changes to this device other than a performance upgrade, and obviously the same goes for the 6.5", effectively just a larger version. Rumours of a triple-lens camera for the larger device seem to have died down. The 6.5" iPhone would simply have increased battery and storage capabilities over its smaller brother.

The 6.1" iPhone seems to be the one getting the most attention. Despite not having an OLED screen, and sporting a single-lens camera, the price point is expected to be much lower with performance similar to the iPhone 8/8 Plus, whilst still looking like an iPhone X and still supporting FaceID. It's also rumoured to feature dual-sim functionality, but it is not yet clear if this will be exclusive to the Chinese market as this is where the desire lies.


Is the headphone jack coming back?

Nope.

They've released the lightning to AUX adapter for a reason. All the iPhones come with Lightning EarPods anyway, so if you have an expensive pair of headphones, better invest in that adapter. 
 
Are Apple launching other devices?

We're not 100% sure. There have been leaked designs of a bezel-less iPad, but that could be set to launch next year as Apple have already released a new, budget-friendly iPad this year.
Apple did apply for a patent for a redesigned watch, once again we would probably be looking for a release date next year. However, with Apple's success in the wearables market and a new series of watch released every year since its initial launch, we are fully expecting to see a series 4 coming in September, even if the design isn't set to change…drastically.

Some leaks have suggested Apple have optimised their designs to allow for a 15% increase of the usable area on the 38mm and 42mm screens, essentially reducing the bezel sizes. 
When is the launch event?

It looks like September 12th is currently available.