26 Aug 2016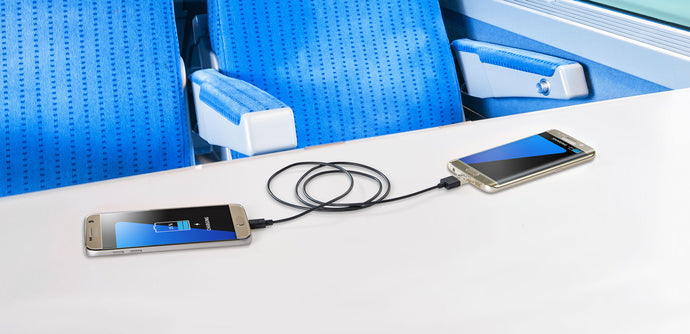 Arthur C. Clarke - "Any sufficiently advanced technology is indistinguishable from magic." And so a new power range from QDOS called Power My Life was created. 
As technology advances, so should our power and charging products. QDOS didn't want to create products which are already available on the market, they wanted to innovate and create products that offer easy access to power whenever and wherever you need it most. The new range so far includes two pioneering products.
The first product of the new range - PowerShare. A USB to micro-USB charge and sync cable. Sounds simple enough, except this cable quite literally has a trick up its sleeve! The USB end is convertible to micro-USB with one simple click, allowing you to share power on-the-go by charging your Android smartphone from a friend's Android smartphone! Once finished, the converted USB simply converts back to USB for regular charge and sync features. At just £9.99, this additional feature and premium product is a steal!
The second product to launch within this new power range is SharePort. It's a multi-port car charger with a detachable extension hub that allows all in car passengers to have easy access to power, without having to take it in turns! The product comes in two parts. A 3x port, 5.7A car charger that can charge two smartphones and a tablet simultaneously. When the extension hub is plugged into the car charger, SharePort can charge four devices at the same time keeping even back seat passengers happy! QDOS made the extension hub detachable for easy stowage when it's not in use, keeping your car cable-free and tidy. Put an end to road trip bickering from just £29.99!
What's coming soon in the range? QDOS have loads of ideas for products they'd like to create! Some including simple innovations that make the day-to-day a bit easier. Reversible USB and Micro-USB ports, so that you don't have to fuss to figure out which way around the plug goes at 3am in the dark! A cable wrapped in steel for extra toughness at the connector ends, so that your cable doesn't break from wear and tear. Thin, lightweight powerbanks that offer not only charge features, but other surprises too! Do you have a power product in mind that you'd love to see in the range? No matter how ambitious, tweet us your ideas @QDOS_Sound and hashtag #PowerMyLife. You never know, your idea may just become a reality!