14 Sep 2021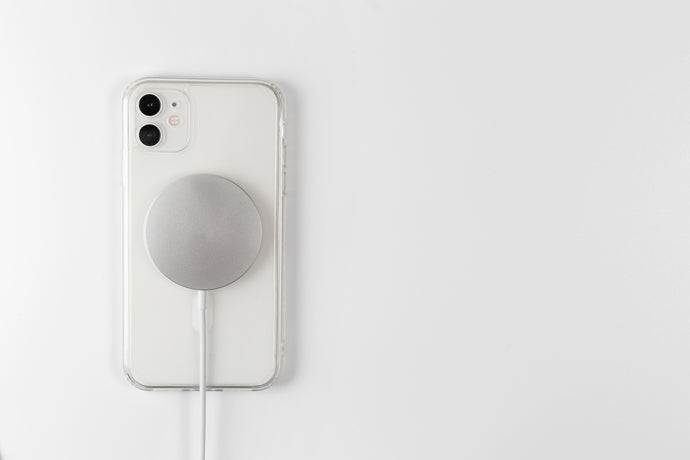 It's not even been 1 year since the launch of the iPhone 12 range which included new wireless Apple technology, MagSafe. Here at QDOS, we've been wondering what iPhone 12 users think of the MagSafe feature. Will we see MagSafe return to the iPhone 13 lineup? What is the future looking like for MagSafe? First things first… 
What Is MagSafe? 
MagSafe is a magnetically attached wireless power transfer embedded into the iPhone 12 which allows the device to charge wirelessly with a MagSafe charger. You can also connect other MagSafe accessories to the back of your iPhone 12 using the MagSafe magnets, like securely fitted cardholders, battery packs and more.
MagSafe offers 15W of power and is compatible with Qi wireless charging, capped at 7.5W of power. 
Anyone who used a MacBook Pro in 2006 may remember the magnetic charger that easily connected to your laptop. That was Apple's initial use of their MagSafe technology. They moved onto USB-C to charge MacBooks in 2016, phasing out the MagSafe feature. The last MacBook to use the MagSafe charger was discontinued in 2019. 
The MagSafe feature in the iPhone 12 was primarily designed to perfectly align an iPhone 12 to a Qi charger to ensure reliable charging. 
What Do iPhone 12 Customers Think Of MagSafe?
We checked out Youtuber Max Tech talk about his thoughts in his video MagSafe Review after 9 Months, and we couldn't agree with him more!
Max Tech shares in his informative review that he hopes future renditions of the iPhone include MagSafe now that he's gotten used to the feature on his iPhone 12. Max Tech shares that while he's happy with some of the MagSafe features, MagSafe could have been so much better than it was upon release… 
Let's Talk Charge Time
On the Apple website, you can clearly see that Apple lists that their MagSafe Charger can charge: 
iPhone 12, iPhone 12 Mini, iPhone 12 Pro Max, iPhone 12 Pro 

iPhone 11, iPhone 11 Pro Max, iPhone 11 Pro 

iPhone SE second generation

iPhone XS, iPhone XS Max 

iPhone XR, iPhone X

iPhone 8, iPhone 8 Plus

AirPods Pro
While this is all technically true, the charging speeds of these devices differ wildly. Charging an iPhone 8/X/11/11 Pro with the Apple MagSafe charger delivers between 1-3W to your device… compared to the 15W that the iPhone 12/12 Pro/12 Pro Max would get from the same charger. 
If you wanted to use the MagSafe charger to charge your iPhone 11 Pro Max, it would take 12.5 hours to fully charge your device… 
Compare that with a 2 hour charge time for an iPhone 11 Pro Max using a wired fast charger… All of a sudden, MagSafe doesn't look that impressive. 
Let's Talk Alignment
If you're someone who uses wireless charging frequently on a device that doesn't have MagSafe, you might recognise the frustration of leaving your phone to charge overnight on your wireless charger, only to wake up with no idea of the time because your alarm didn't go off and your phone is dead. This happens because of misalignment. If a device with wireless charge Qi technology is not properly aligned on a wireless charger, it will impact the charge speed and efficacy of the charger. 
MagSafe fixed that, using the magnet to perfectly align the charger to the device. No more waking up late for work confused and frustrated! 
The magnetic connection also means that you can use your phone while charging it wirelessly, holding it in your hands. 
Let's Talk Accessories
The really awesome thing about MagSafe is how personal the tech makes your device. You can add a slim wallet to the back of your phone if you're looking for lighter pockets. You can use MagSafe phone holders that simultaneously charge your device while you're driving. You can use MagSafe battery packs when travelling. The MagSafe feature certainly opens a lot of doors to customers in terms of accessories for their iPhones.
Will Apple Replace Lightning With MagSafe?
Eventually, for sure! However, it's clear from charging speeds that MagSafe technology is just not ready to replace lightning yet. We're certain that Apple have plans to make this switch at some point in the future, and it will probably take longer than Apple was hoping. 
With the development of fast charge and with the iPhone 13 being rumoured to support 25W fast charge, the MagSafe charging solution has a lot to compete with. 
MagSafe: Should I Stay Or Should I Go?
We'd love to see MagSafe in future Apple devices, so long as the tech continues to be developed and improved on. The tech itself needs a better cooling system and a higher wattage, which is difficult to achieve, however, it isn't far away into the future, with many Android devices already showing better performance in their wireless charging tech than the iPhone 12 range.
The number of MagSafe compatible accessories, both by Apple and third-party manufacturers, offers customers such a variety of features and the opportunity to personalise their devices. 
As time progresses, so will MagSafe technology. For fun, let's hazard a random guess... We estimate that the world of Apple tech will be ENTIRELY wireless by the year 2031… We'll see in 10 years if we're right!